The best working environment for SAP developers and consultants
DISPLAY YOUR TALENT AND CONTINUE TO GROW
Are you an SAP consultant or a programmer? If you are already working in SAP consulting or have recently graduated and want to pursue a career and training, you are interested in getting to know us.
Take advantage of all the employment opportunities in a SAP consulting firm with more than 20 years of experience, integrated in the LKS Next Group and the Mondragon Corporation, and with all the advantages of a flexible and close company.
It's not just a job in SAP Consulting
At all levels and in different areas. Recent university graduates, or those with work experience in other fields, can enter a career in SAP consulting through the i3s Academy. For our experienced SAP professionals, we encourage continuous training and provide incentives to obtain new degrees and certifications.
i3s is a firm with more than two decades of experience in SAP consulting, so you will work in an experienced team. You will be able to grow every day in a collaborative environment where it is possible to contribute talent and learn from those around you. We do our best to make sure you have all the resources and opportunities available to you to succeed.
We strive to provide you with the development tools, training and support to make your professional dream come true. This, together with the good atmosphere, the trusting relationship, the proximity, the flexibility and the facilities for reconciliation invite our professionals to bet on a long-term professional career at i3s.
What makes i3s a great place to work?
We asked our team why they feel good about working at i3s. Good atmosphere, companionship, professionalism, facilities for conciliation, training, professional development, and belonging to a leading group such as LKS Next and the Mondragon Corporation are the main reasons.
Good fellowship and a good working environment
This is what you will find in the i3s offices. SAP consulting projects often require teamwork. At i3s, companionship is assured. This has an impact on employee motivation, performance and, ultimately, on the quality of service.
Reconciliation of work, family and personal life
i3s has always favored work-life balance, especially since our participation in the Concilia Plus program for companies, promoted by the Basque Government. We apply concrete measures such as flextime and a hybrid model that combines on-site and telecommuting.
Training and professional development
The IT sector is always evolving.
The changes are continuous because the technology is constantly updated, constantly and at great speed. At i3s we offer our professionals the opportunity to develop their skills through training and teamwork to ensure a good performance of their current and future functions.
We offer you a career in an IT consulting firm specialized in SAP solutions with more than twenty years of experience. We give you the opportunity to work with senior consultants with a high level of knowledge in digital transformation of business processes through SAP solutions and proprietary technology developments.
Proximity and flexibility

We are a united team, where we all know each other and where the treatment is familiar and close at all levels. There is a climate of respect and trust that favors communication, as well as flexible schedules and teleworking.
We offer you a long-term employment relationship, with internal promotion measures that guarantee the development of talent. In a sector where staff turnover is very frequent, with an average tenure of 3.5 years, according to LinkedIn data, at i3s, employee retention is almost four times higher.
Our team members are employed for an average of 12 years at i3s.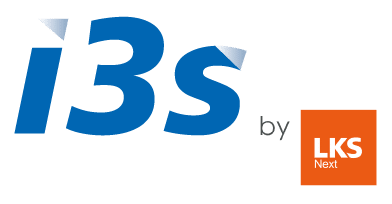 We belong to the LKS NEXT group and the Mondragon Corporation.
Joining the i3s staff means joining a company with all the potential of large companies and the advantages of small ones. i3s is the SAP consultant of the LKS Next group and the Mondragon Corporation, which makes it a benchmark within a leading business group.
Testimonials from our SAP consultants
"I love my job, but what I value most at i3s is the good atmosphere, both inside and outside the office. For me the emotional salary is very important and here I have many facilities to reconcile with the intensive workday, flexible hours and teleworking. In addition, the office is very conveniently located in the heart of Bilbao!
"My beginnings in SAP consulting were with i3s and I have never felt the need to change. In 14 years, i3s has not only given me the necessary training and support, but has also placed its trust in me, something basic in my professional growth. That, added to the friendly atmosphere and flexible work environment, makes i3s the company that best suits my needs, both personal and professional".
"When I participated in the selection process to join i3s, I was struck by the transparency in the way I was treated. Once inside, I have had the opportunity to develop myself in a new area for me and I have had the necessary support to do so. The relationship with my colleagues is very close and, although I have only been with them for a short time, I feel fully integrated into the team. Learning is continuous".
The best SAP job is waiting for you!