GREAT EMPLOYEE EXPERIENCES, BETTER RESULTS
Transform the work experience of your employees by aligning their capabilities with your business strategy.
SAP Human Resources Management
SAP Human Resource Management Software
A vision. An intelligent platform. A human experience.
Offer employees experiences that recognize their individual value and constantly motivate them to achieve the highest levels of performance.
Improve speed, adaptability and impact with better visibility into your business performance
Improved commercial results
Maximizes business performance by aligning people strategy with financial results
Ensures execution through meaningful experience, improved engagement, focused on results
SAP SuccessFactors delivers the experiences employees need to maximize performance and improve productivity.
Benefits
SAP SuccessFactors
Build a business model focused on serving the value of people, reinforcing their commitment and strengthening the organization's objectives.
Concentrating all the information of the company's human capital in a single space, accessible and oriented to provide a unique user experience.
Connecting and increasing engagement in the workforce, linking people with workflows, content, knowledge and expertise.
To have a 360º view of people
Through a flexible, powerful and scalable solution, adaptable to the regulations of each country, and support for both administrative and talent management processes.
SuccessFactors Capabilities
Global workforce management and administration with flexible cloud solutions for HR, payroll, time and attendance, and service delivery.
Workforce lifecycle management, from recruiting, learning, performance management, compensation and succession strategies to enable a strategic and comprehensive approach to talent
SAP SuccessFactors.
SAP HCM provides a real impact on your business with the SAP Human Resources system, which allows you to concentrate the data of employees and organizations, providing better results.
Payroll process management combining technology with embedded localization, automating the provision of services in payroll processes.
Cloud implementation
Global payroll processing
Manages payroll at the enterprise level
Reporting, compliance and auditing functionalities
Extension of Employee Central's time management components, with individualized processing of time reports, integration with payroll for accurate calculation as well as integration platform with external reporting systems.
Services to support the ecosystem of employees and collaborators through an organized management from the HR point of view, increasing their loyalty and productivity.
Implementation of the talent strategy to help attract, capture and select the best candidates and measure their results.
SAP SuccessFactors improves job satisfaction, productivity and employee retention by correctly guiding the hiring, training and onboarding of new employees.
Environment oriented to the development of the business strategy that allows to manage, develop and deploy the learning of all employees and collaborators.
Performance and objectives
Creation of individual goals for employees and collaborators, progress monitoring and performance evaluation.
Establish a pay-for-performance culture to retain top talent and increase productivity across the company.
Succession and development
Planning for personnel changes and aligning learning activities with the competencies of each employee to create a team that responds to current and future needs.

Provide a centralized environment for the most relevant aspects of Human Resources administrative management, organizational structure as well as employee time management.

Globalized for all countries, over 100 localized versions
Translated into more than 40 languages
Management of contingent labor, retirees, contractors, non-employees
Job management, team absence tracking, benefits, global assignments and quick mobile access
Flexible workflow and rules engine to handle complex needs
Easily configured to meet unique customer requirements
Third-party application marketplace to expand capabilities
Advanced solex solutions available for U.S. benefits and document management.

Centralized repository for managing all workforce data and improving visibility for decision making, aligning human resources and business strategy.
Integrated solution, reducing costs (reduces human resources cost by 26 % / transaction)
Intuitive solution for all users
Effectively manages international mobility
Flexible architecture and a marketplace for third-party extensions greatly expands the possibilities.
Provides platform agility to easily handle acquisitions, divestitures and expansion into new countries and regions.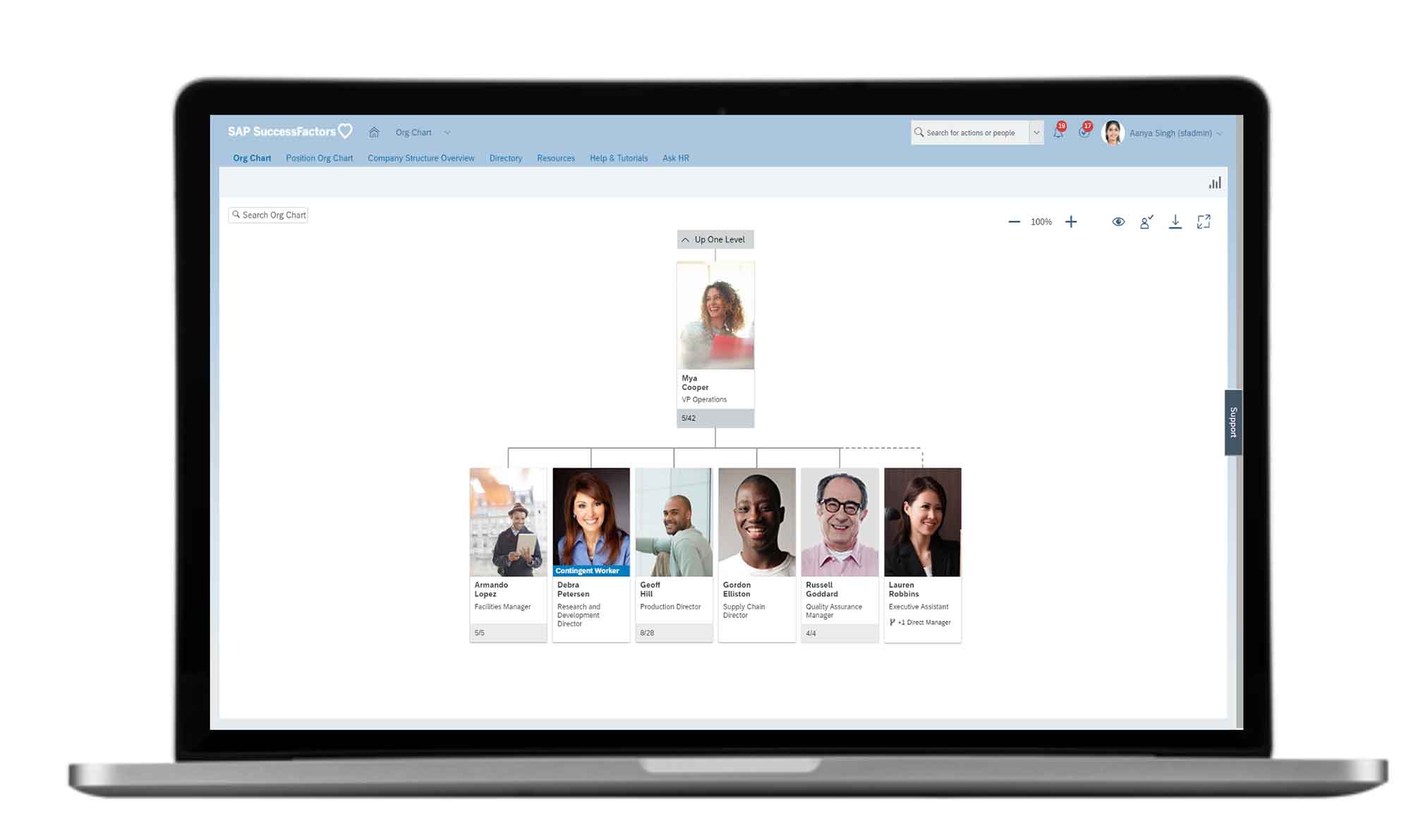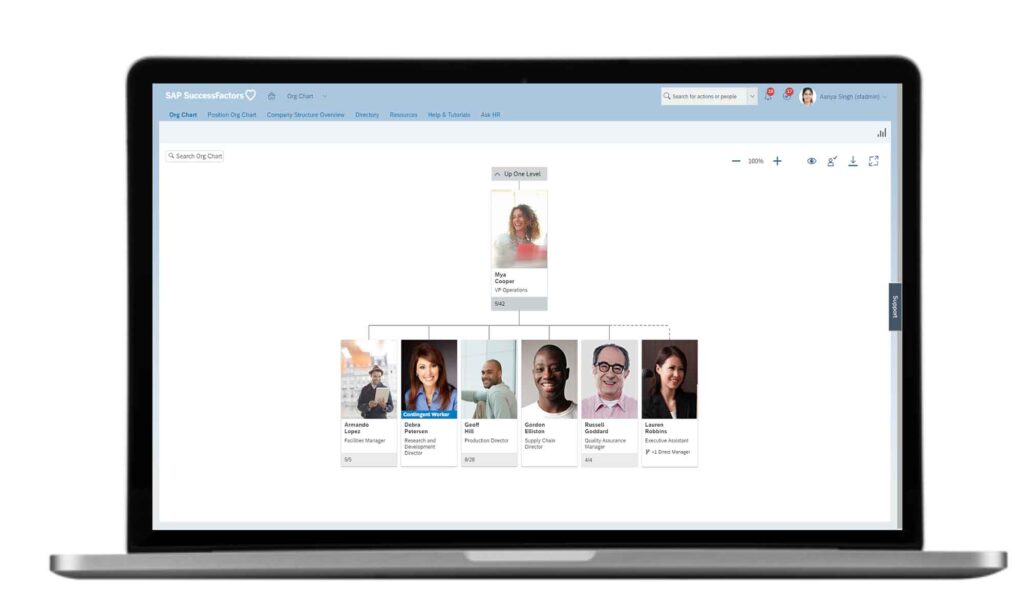 Solution oriented to calculate and pay your workforce in a timely and efficient manner. Automating and accelerating the processing of the process, reducing the risk of errors and simplifying payroll management.

Gross wage calculation and gross to net calculation
Retroactive Pay CalculationDetailed payroll simulations
Garnishment calculationCreation of payroll and deposit advices
Direct deposit of paychecksWage refunds
Automated payroll tax computationsQuarterly and year-end reports and forms
End-to-end payroll process integrated with your general ledger
Country-specific localization in 47 countries
Mobile application for payment statements
Reporting tools and predefined report content
End-to-end process integration with Employee Central processes
SAP enterprise technology platform

Real-time process monitoring
Compatibility of execution of local practices with global management
Cost reduction
Adaptation to legal changes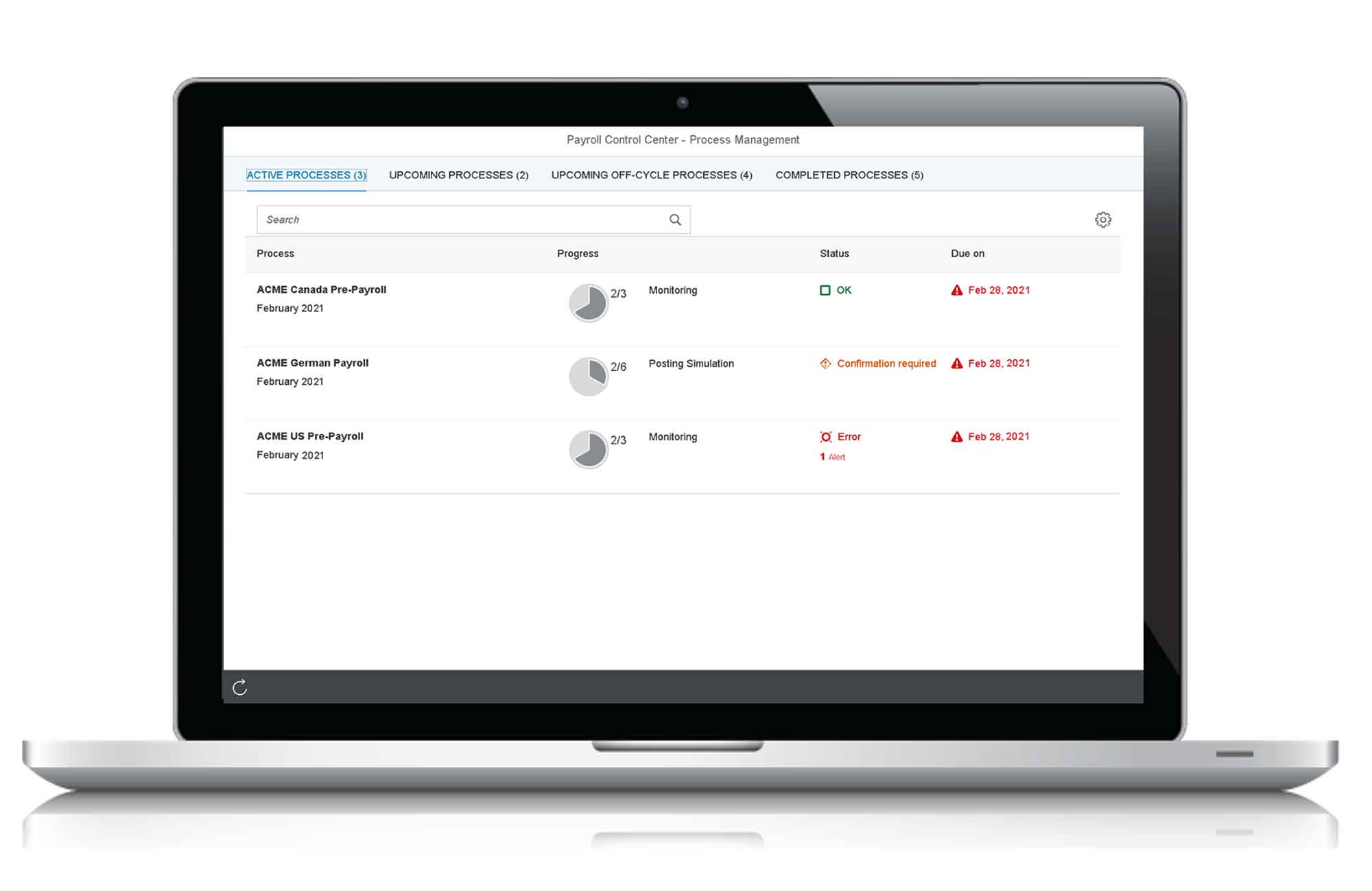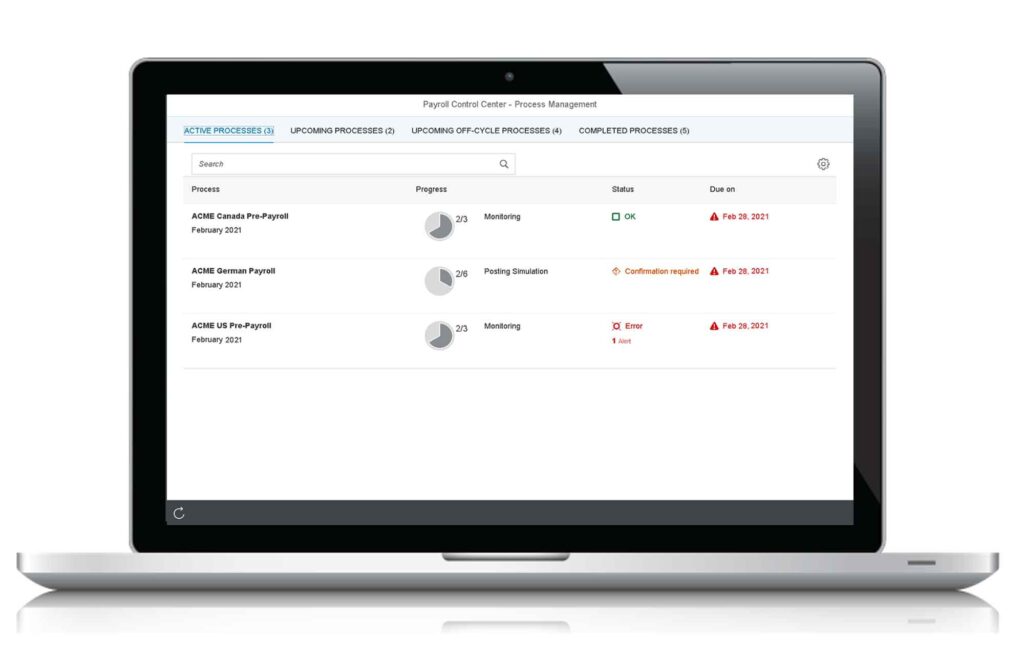 Creating a complete view of activity reporting, informing processes related to labor costs and ensuring accurate and timely payment to employees. All integrated in SAP SuccessFactors Human Experience Management (HXM) Suite.

Transparent time evaluation and approval workflows
Simplified time recording
Mobility
Integration with external time control systems

Improve employee experience
Controlling labor costs and minimizing compliance risk
Integration into SAP SuccessFactors HXM Solution
Optimize time management
Strategic labor cost management
Increased overall productivity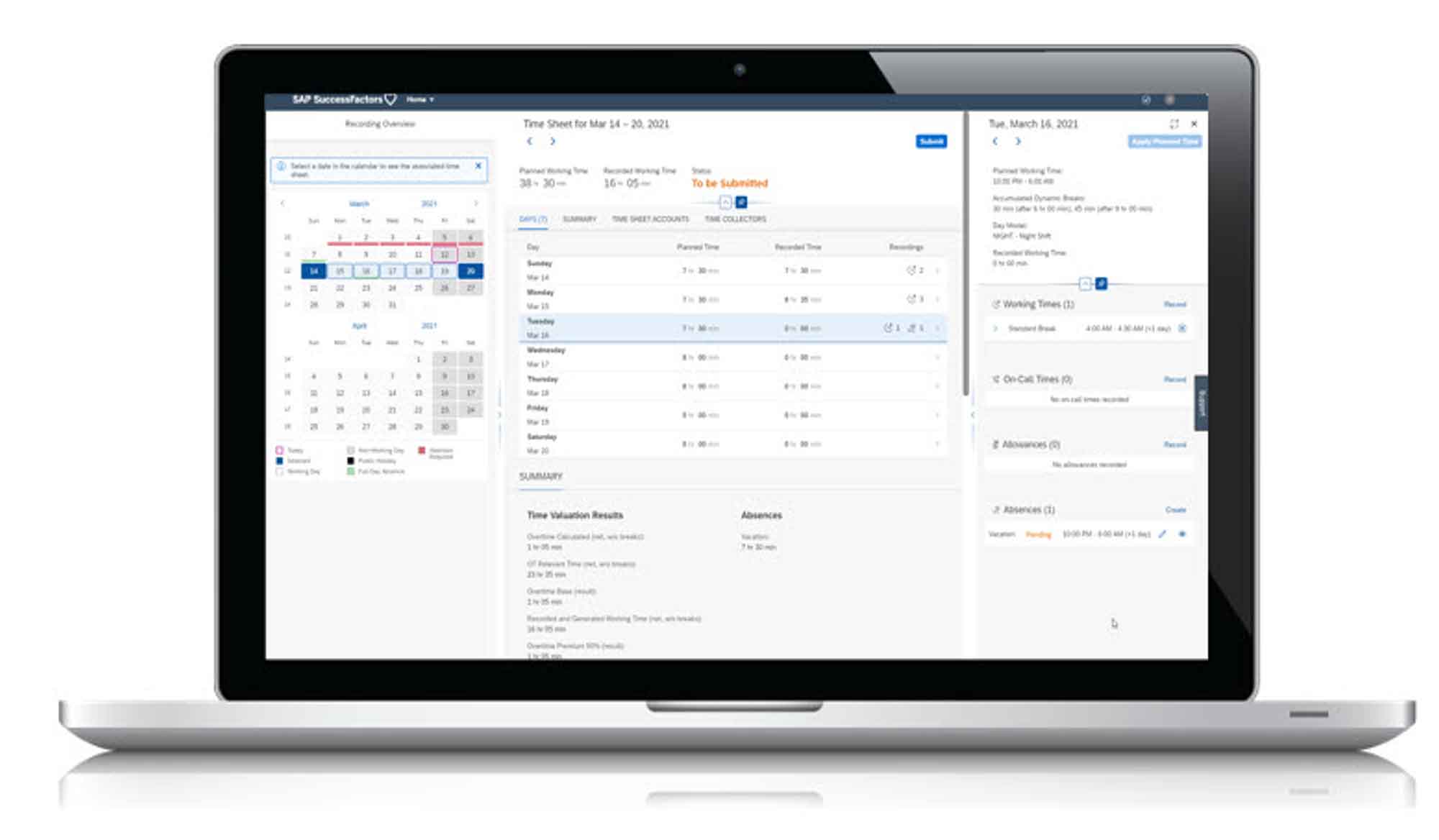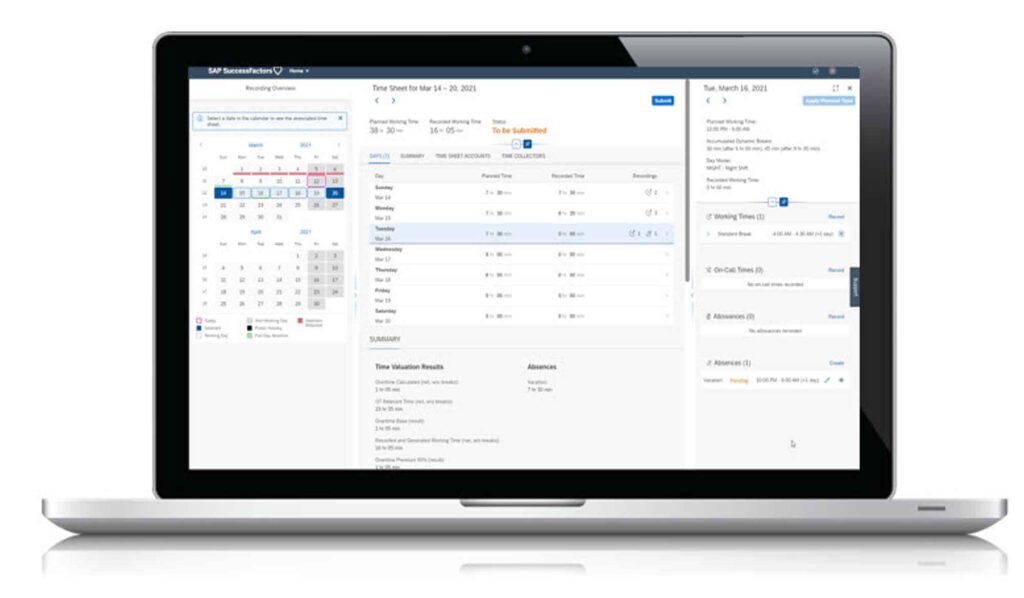 Provide employees with easier access to answers to their HR questions while giving agents immediate and secure access to employee data and relevant HR policy information to quickly resolve inquiries

Ask HR" link with access to the HR knowledge base.
Possibility to interact with RR. HR directly through SuccessFactors , HR hotlines, and through the HR department of SuccessFactors. HH. or a central email address , from your desktop or mobile device
Definition of ticket routing rules
Built-in reporting and analysis for SLA analysis
Creation of reports with integrated reporting functionality
Communication with Human Resources through multiple channels and from your desktop or mobile device.

Provide personalized and relevant information to employees
Improving the work environment
Employee loyalty to the company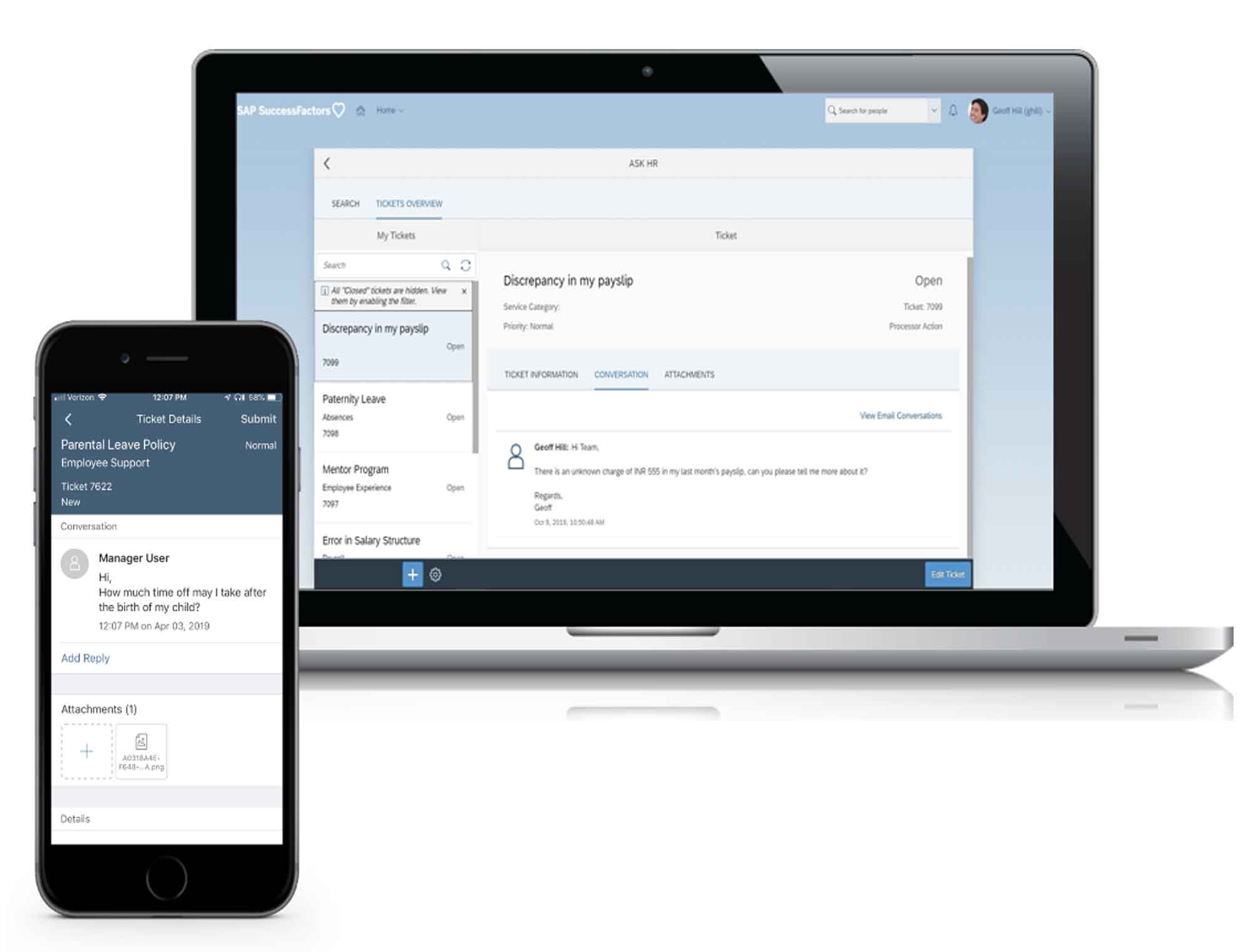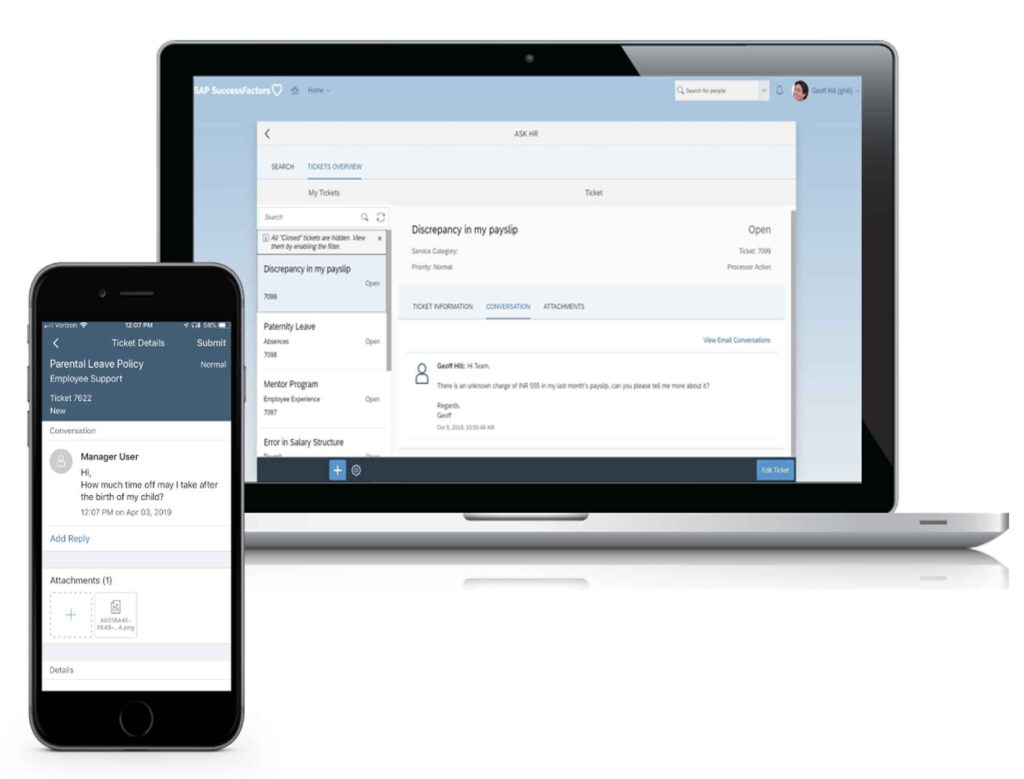 Recruit top talent to support business strategy by providing outstanding candidate experiences
Expanding diversity and candidate on-boarding capacity
Simplify the talent acquisition landscape-
Measuring and optimizing recruitment results and impact

Improve candidate experience
Strengthening the employer brand
Increasing the volume, quality and diversity of the project portfolio
Improve recruiter efficiency
Accelerate the procurement process
Reduce hiring costs

Provide personalized and relevant information to employees
Improving the work environment
Employee loyalty to the company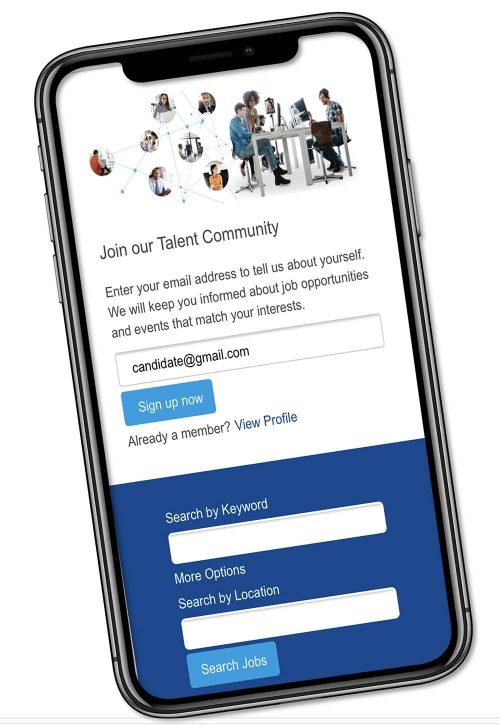 To provide a welcoming, inclusive and productive environment with a new hiring experience. Help ensure compliance by increasing the efficiency of human resources onboarding teams.

Comprehensive and flexible solution supporting onboarding, crossover and offboarding
Experiences designed to address the needs of each role
Intelligent workflows and knowledge based on the SAP SuccessFactors platform.
Localization for more than 100 countries and country-specific compliance support
Unified workflows with SAP SuccessFactors HXM Suite
Multiple e-signature options, including SAP Signature Management by DocuSign

Increase employee productivity
Ensuring compliance
Building connections and social collaboration
Improve job satisfaction and retention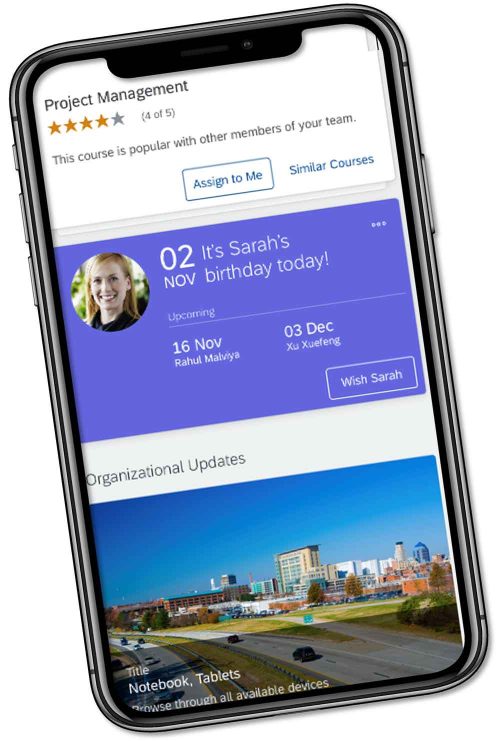 SAP SuccessFactors Learning helps prepare people for the future with innovative capabilities that drive management, training, and skills development.
Driving learner interest with blended learning options and customized content
Improving regulatory adherence and reducing legal risk by automating compliance training
Designing and selecting training experiences for your extended business network
Develop staff at all stages with comprehensive support from recruitment to retirement.

Integral part of HXM Suite to promote the training of employees and external agents.
Improve and reskill the workforce by considering new ways of working, such as social and remote learning capabilities, collaboration, design of learning paths and workflow-based learning.
Access to selected and engaging content with SAP Content Stream for Skillsoft and Open Content Network Partners

Providing clear and compelling career paths to nurture talent
Supporting a culture of continuous learning
Driving measurable business results through increased employee engagement
Drive improved customer experience and satisfaction through external ecosystem empowerment
Ensuring compliance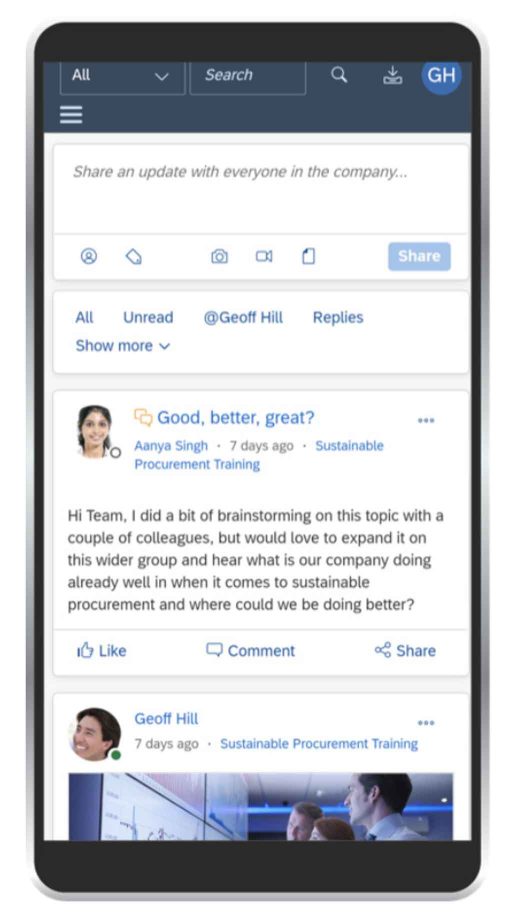 Performance and objectives

Enable your organization to ensure alignment of strategies and objectives, continuously improve workforce performance through ongoing feedback and coaching, and accurately assess and recognize top talent.

Instantaneament goal development with recommendations from the goal library with over 500 SMART (Specific, Measurable, Achievable, Realistic, and Timely) objectives.
Generation of cascading targets
Ability to share real-time feedback on achievements
ManagementCapture a live summary of achievements to discuss during one-on-one and more easilyprepare for the more formal presentationevaluation

Powerful target management
Continuous performance management
Accurate performance evaluations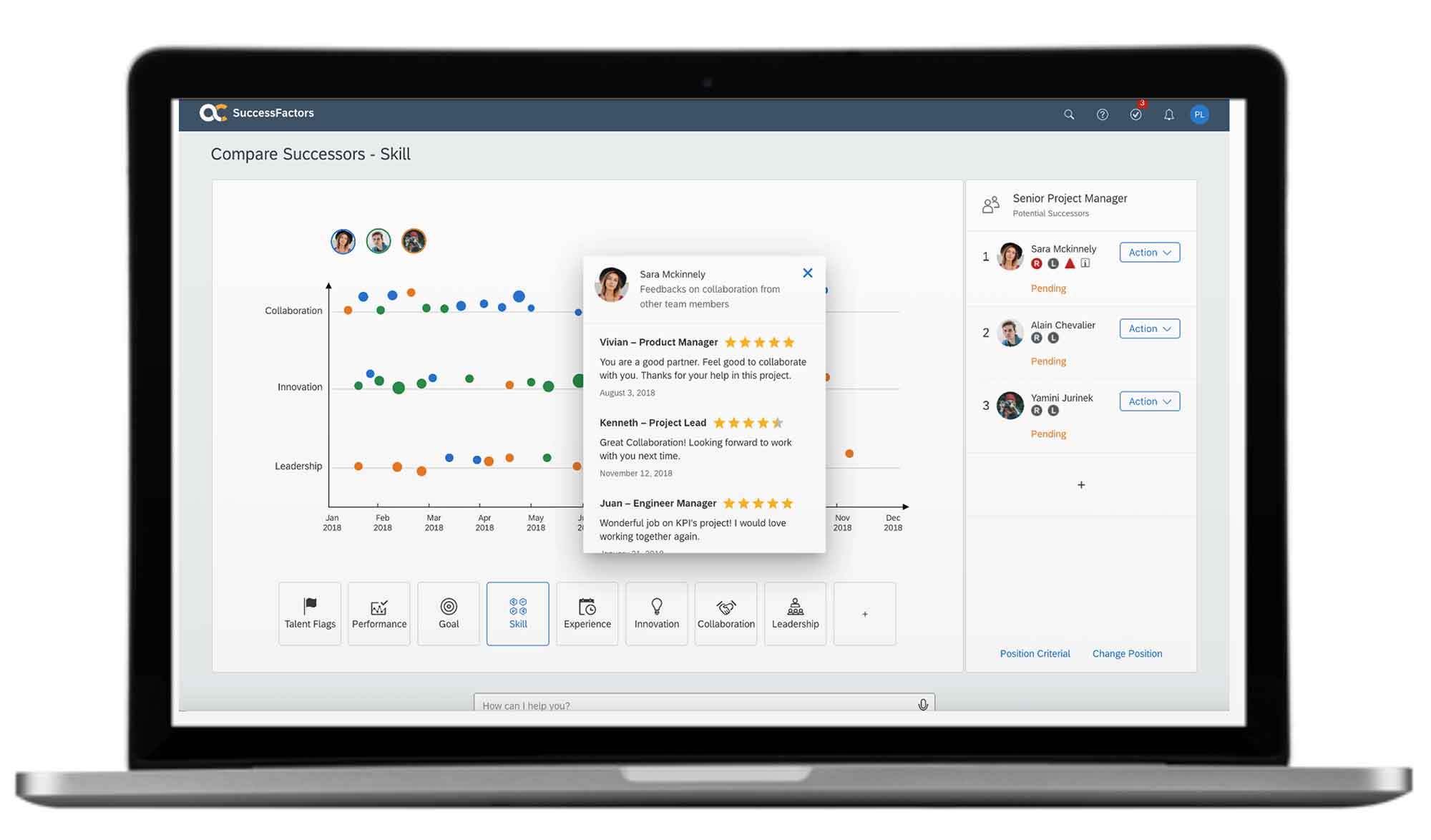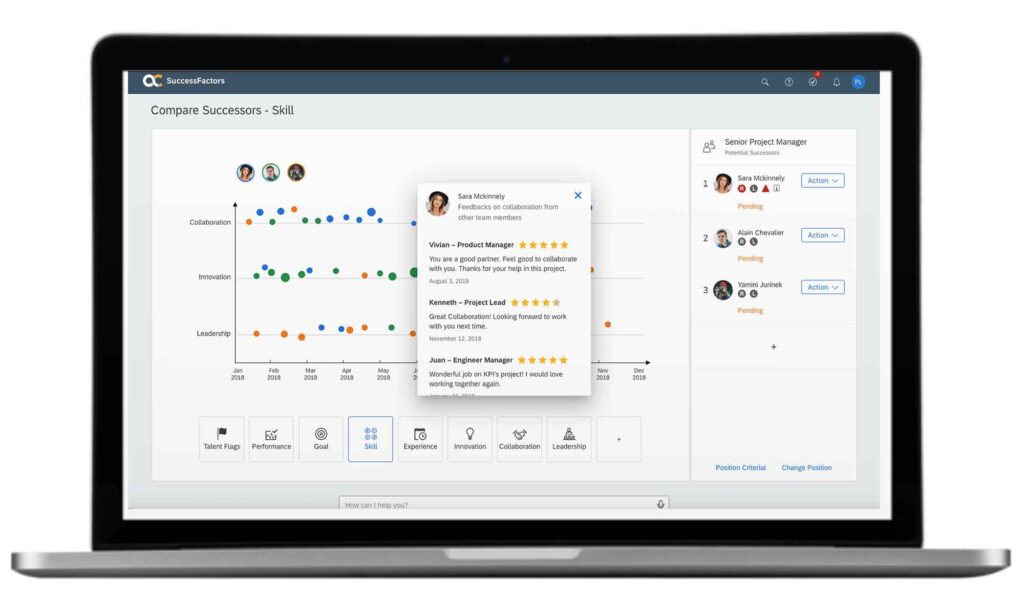 SAP SuccessFactors Compensation builds and manages strategic compensation programs that align with the needs of your employees, business, and budget. Improve individual and business performance with customized and timely rewards and recognition programs.

Instant information including key compensation metrics and employee data
Configurable personal compensation statements
Bonus forecasting, budgeting and accruals
Reward and recognition (i.e., point rewards) on mobile devices
Integration with HCM Suite including EC, Payroll and performance management to support end-to-end business processes

Easier and more centralized compensation administration for human resources
Secure, role-based permissions
Automated real-time calculations of merit increases and bonuses
Clear line of site between the achievement of the goal and the associated reward
Immediate recognition of performance keeps employees engaged
Regionally configurable compensation programs that meet global requirements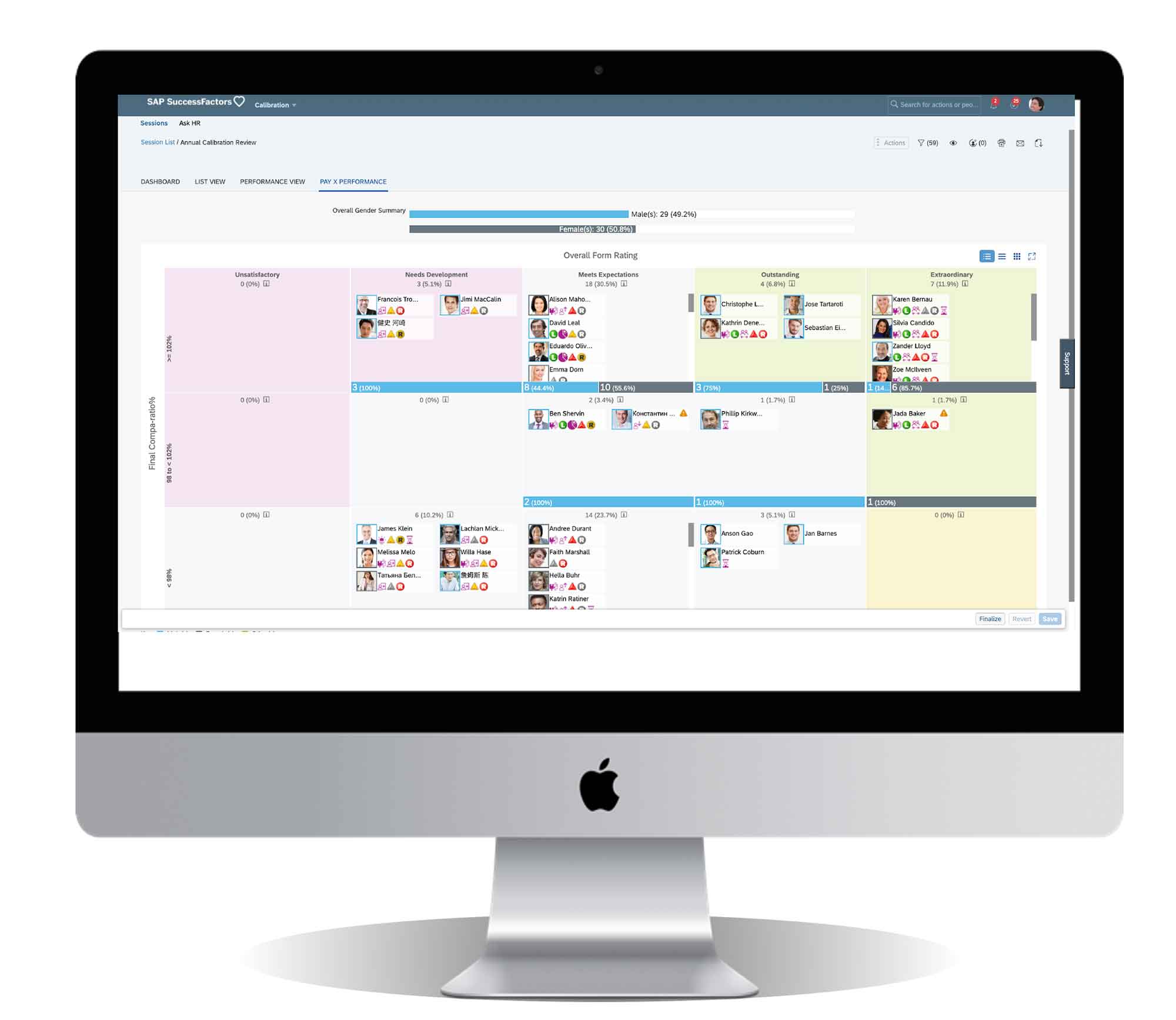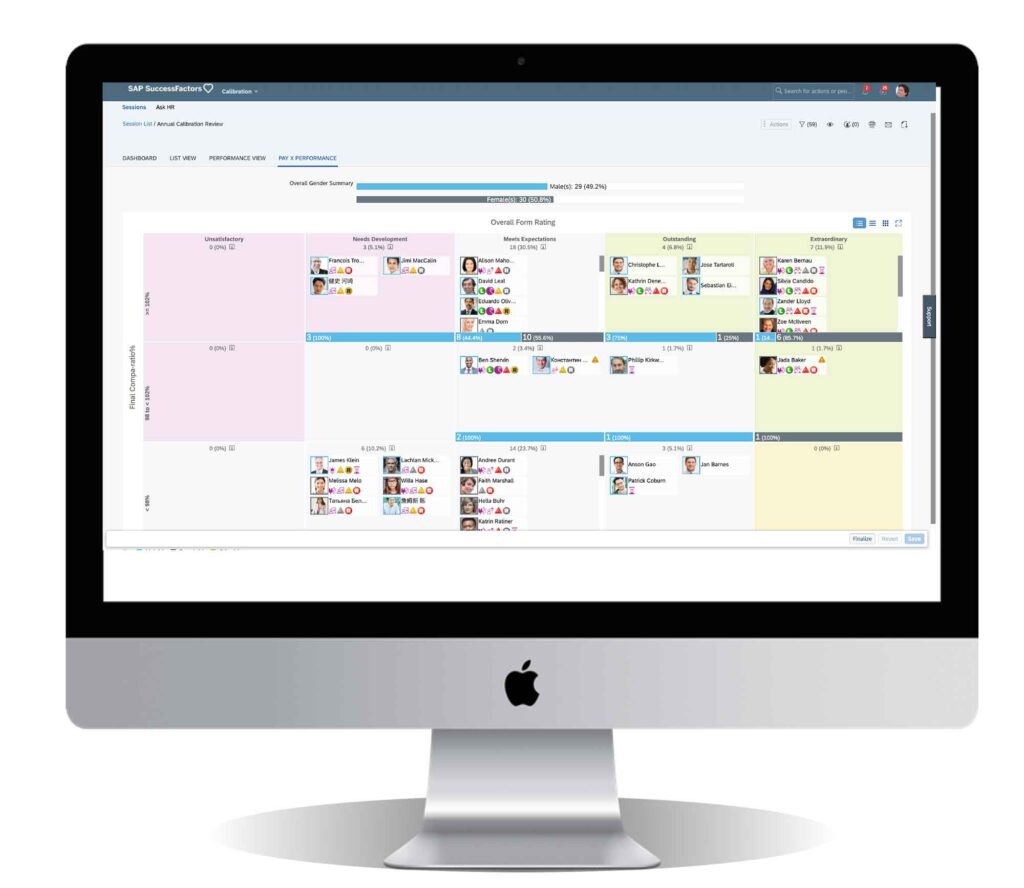 Succession and Development

Objectively assess employee potential to identify, develop and retain talent by identifying employee competency and skill levels. Objectively evaluating employee performance as well as their potential

Assessing the risk and impact of the loss of key talent
Instant nomination of internal and external succession candidates for key positions across the company
Integration with Learning to close gaps in knowledge and candidate profile fulfillment
Measuring the effectiveness of succession planning and the impact it has on the business by integrating with SAC

Providing visibility into existing talent for different business roles
Graphical management through an interactive succession chart
Comparisons between candidates for assistance in decision committees
Engage and motivate employees with Development Plans and Career Opportunities.
Accelerating development and fostering growth with mentoring programs
Using talent pools to develop high potential talents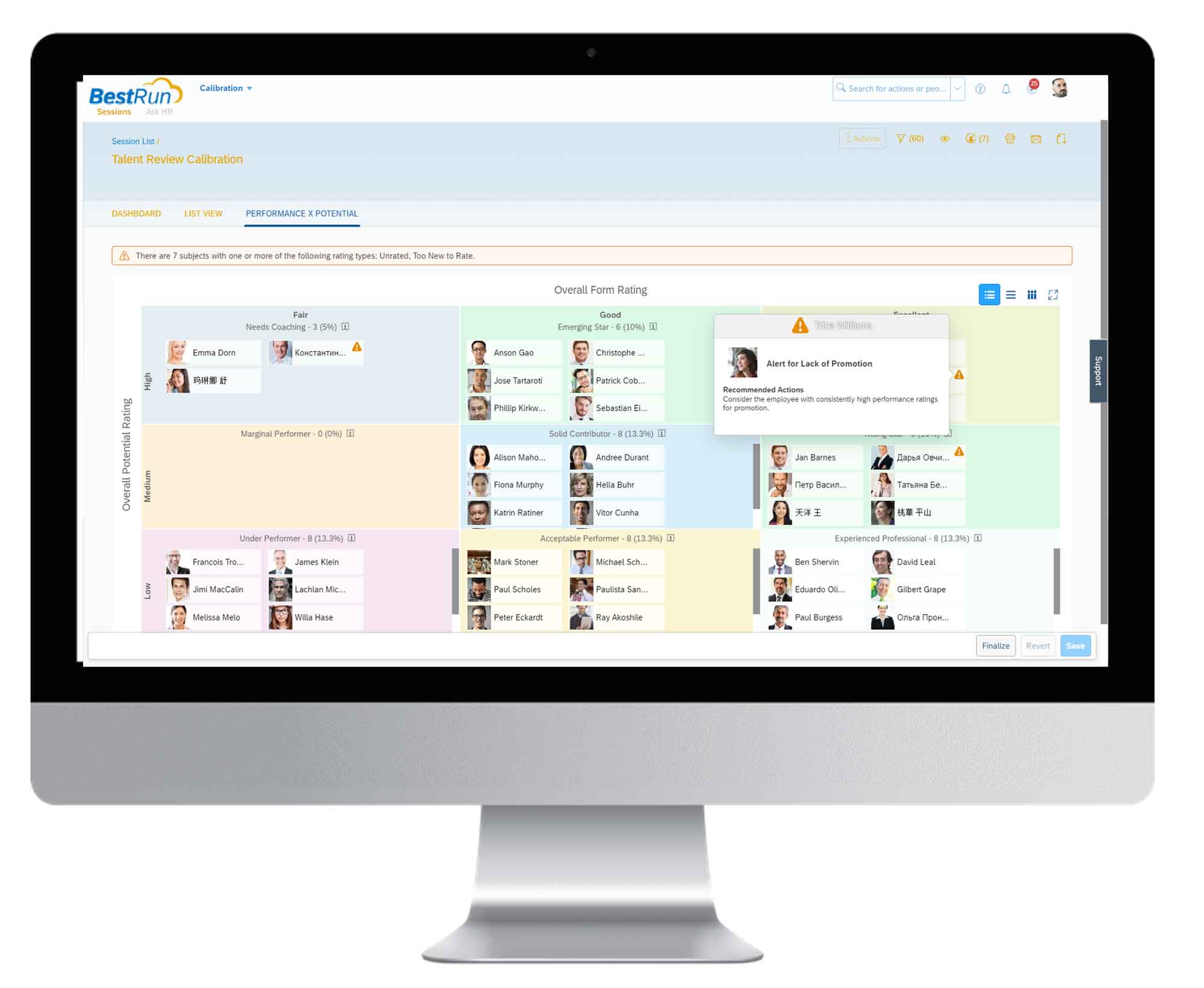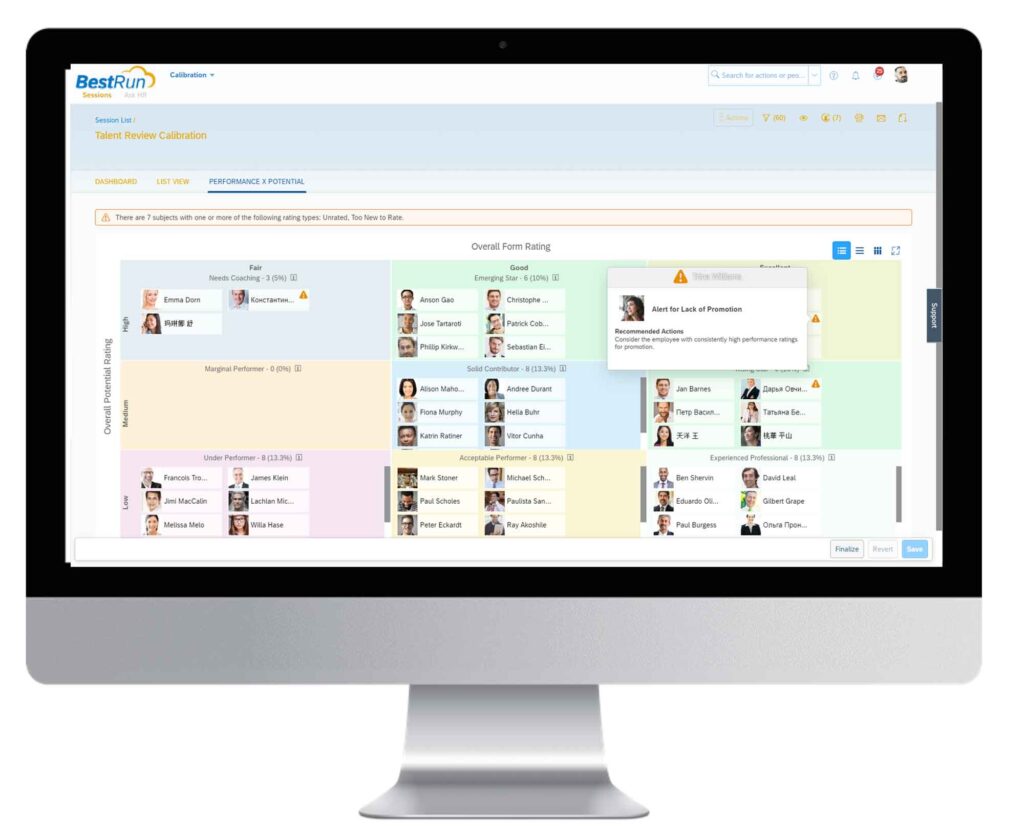 Request information about the service by filling out this form.